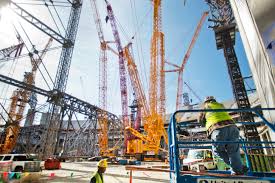 This feature is provided by: J. Ben Shapiro Baker, Donelson, Bearman, Caldwell & Berkowitz, PC
Below are upcoming projects:
Atlanta real estate developer Windsor Stevens Holdings, LLC, plans a 56-unit condominium project on Chamblee Dunwoody Road a quarter mile from the Chamblee MARTA Station. The project will have three, four story buildings with 7,500 square feet of retail space in two of the buildings.   Niles Bolton is the architect.  Contact Rod Mullice, Managing Partner.
Atlanta developer Wood Partners bought the Atlanta Dairies site from Paces Properties for a 250-unit apartment project.  Contact Joseph Keough, CEO, or Patrick Trask, President, at 404.965.9965.
Gwinnett County Board of Commissioners has approved Julio Jones's development at the corner of Mall of Georgia Boulevard and Woodward Crossing.  Plans call for nearly 300 class A luxury apartment, restaurants, retail space  and s 100-room Hilton Garden Inn.  Contact Jon Guven one of the investors.
Atlanta-based real estate developer Pope & Land plans a mixed-use development at Haynes Bridge Road and Georgia 400 in Alpharetta.  "Northwinds Summit" will have up to 1.2 million square feet of office space in five buildings, 32 condos, 140 apartment units, a 140 room hotel and 20,000 square feet of retail.
The Boeing Corporation is looking for a location of a new distribution center in South Metro Atlanta along I-75.  The center could range from 800,000 square feet to more than 1 million square feet.  Boeing is working with third-party logistics provider, XPO Logistics, Inc.
BlackRock (the world's largest asset management firm) finalized a lease to put its innovation center ("iHub") on four floors at the new office building at 725 Ponce de Leon Avenue, Atlanta near Ponce City Market.  The development is owned by New City.  Contact BlackRock's Logan Koffler.
The Marietta City Council approved a variance request from Lidl to transform an empty building at 670 Whitlock Avenue into a grocery store.  Also, Lidl announced plans for a regional headquarters and distribution center in Cartersville, Georgia, a step for Lidl to launch more grocery stores in Georgia.
Cobb County will spend $6.5 million to replace Cobb Fire State 17 at 3321 Ernest Barrett Parkway and approved a contract will John W. Spratlin and Son, LLC.
Cobb County contracted with Albion Scaccia Enterprises, LLC for a $6.9 million renovation of the Switzer Library near downtown Marietta.
San Francisco-based Stitch Fix, Inc. an online clothing retailer, will invest $56 million in a new distribution center on Factory Shoals Road in Lithia Springs, Georgia, about 15 miles west of downtown Atlanta. Stitch Fix will lease a 925,800 square foot building for "Project Southern Charm".
Pennsylvania-based Toll Brothers is planning a 600-unit,  two tower development at 1018 West Peachtree Street across Spring Street from H. M. Patterson & Sons funeral home.
Homebuilder, Lennar, plans a 131 home project in Cumming.
Alpharetta's new Jekyll Brewing will consist of a restaurant, tasting room and 2,500 square foot roof top deck overlooking downtown Alpharetta.  Contact Co-owner Josh Rachel.
Windsor Holiday, a family group from Johns Creek, plans a 4-story condominium at 501 Boulevard in the Old Fourth Ward.  Kevin Maher with Place Maker Design is the Architect.
Vista Realty Partners is planning a $41 million, 300-unit apartment complex near Sweetwater Creek in Douglasville, Georgia.  Contact Eduardo De Guardiola, CEO, Vista Realty, at 404.995.4446.
Porsche plans a "state-of-the-art" auto service and repair center on Porsche Avenue near Hartsfield Jackson Atlanta Airport.  Contact Klaus Zellner, CEO of Atlanta-based Porsche Cars North America
Amazon confirmed that it will develop a 700,000 square foot warehouse facility off West Park Place Boulevard just south of U. S. 78 near Stone Mountain Park.  The $200 million facility would create 1,000 new jobs.  Contact Roy Perticucci, Amazon's Vice President.
Kroger is expected to announce that it plans to build a $55 million fulfillment center in Forest Park, Georgia's Ft. Gillem Logistics Center.  Contact Kroger's Robert Clark, Senior Vice President of Supply Chain.  Kroger will work with UK based technology company Ocado Solutions which will provide robotics and digital systems for the new facility
Charlotte-based Asana Partner will renovate Midtown Promenade shopping center at 931 Monroe Drive, across the street from Grady Stadium and along the Eastside Trail.  Contract Terry Brown, Jason Tomkins, or Sam Judd, Managing Partners at Asana. 704.423.1660.
Daimler AG plans to move its innovation center (Lab 1886) from Terminus 100 in Buckhead to Midtown.  Contact Axel Harries, Vice President, Mercedes-Benz.
Triad Construction Co. received a permit from the City of Fairburn for $8,500,000 of alterations to a school building.
Humphries & Co. received a permit from the City of Sandy Springs for $1,500,000 of alterations of office space at 5900 Peachtree Dunwoody Road.
The Revive Land Group proposes a 153-unit townhome project at Florida Road and Jones Mill Road in Peachtree Corners, Georgia.
Ten Park East, a 10-story condo tower from Live Oak Realty, is planned for Angier Avenue in the Old Fourth Ward in Atlanta.  Visit TenParkEast.com.
Benning Construction received a permit from the City of Buford for a $6,257,000 grocery store at 4108  Hamilton Mill Road in Buford, Georgia.
Batson-Cook Construction received a permit for a $4,595.000 alteration of Emory Midtown Hospital at 550 Peachtree Street, Atlanta.
We Work will build out 30,000 square feet of new offices in downtown Decatur in the $80 million redevelopment of an old county government office building by Cousins Properties and AMLI Residential.
Goodyear Tire and Rubber Co. is considering  Atlanta for a 1 million square foot warehouse and distribution center called "Project Fireball".
Chef Linton Hopkins and Gina Hopkins plan a new 4,000 square foot restaurant in Colony Square.  Contact Mark Toro, President, North American Properties.
Developers, Kaufman Capital Partners and Atlantic Realty Partners, plan to demolish 70% of Doraville's Village at Tilly Mill Crossing and replace it with two new buildings of three to five stories of apartments and retail and office space on the ground floor facing the street.
Winter Construction Company received a permit from the City of Atlanta for a $35 million library at Margaret Mitchell Square.
Winter Construction Company received a permit from the City of Atlanta for a $1,300,000 renovation at 223 James Brawley Drive at Clark Atlanta University.
Toll Brothers, Inc. plans to develop a new multifamily project at 1018 West Peachtree Street in Midtown Atlanta.
Atlanta developer, Columbia Ventures, LLC, plans a 43-room, independent hotel in Savannah in the former Broughton Municipal Building on East Broughton Street.  Contact Co-Founders Dillion Baynes, Jakob von Trapp, Noel Khalil, and Jim Grauley at 404.874.5000.
Emory University Hospital Midtown will develop a new cancer tower next to Bank of America Plaza on Peachtree Street  The 17-story, 450,000 square foot Winship Cancer Center will occupy more than three acres.  The nearly $500 million project will include a multi-story parking deck extending to West Peachtree Street, a central patient drop-off along Linden Street, a fitness studio, café, pharmacy, and gift shop.  The cancer center will connect to the existing hospital via a bridge over Linden Street. New York-based Skidmore, Ownings & Merrill  and Atlanta-based May Architecture are the architects.  The medical tower could break ground later this year and be complete in the fall of 2023.
A $450 million plan to redevelop Underground Atlanta is expected to take off in 2020 with the construction of a new, 320-room Yotel Hotel, apartments and an entertainment venue.  Contact T. Scott Smith, President of South Carolina -based WRS, Inc.
The Jekyll Island State Park Authority issued a Request for Proposals on June 19th for a Master Plan for a four courses at the Jekyll Island Golf Club.
The City of Alpharetta issued a permit to Rycon Construction for a $1,600,000 Burlington Store at 7731 North Point Parkway.
Phillips Partnership received a permit from the City of Atlanta for a $1,520,940 commercial alteration at 1801 Howell Mill Road to the Wal-Mart Store.
The City of Smyrna issued a permit to Balfour Beatty Construction for a $30,490,000 school building.
Humphries & Co. received a permit from Cobb County for a $3,800,000 alteration to an auto parts store at 3100 Windy Hill Road, S.E.
Posted by ahqiadmin
On February 28, 2018
0 Comments