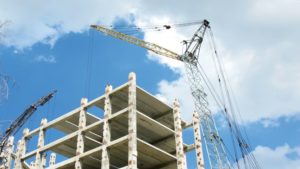 This feature is provided by: J. Ben Shapiro Baker, Donelson, Bearman, Caldwell & Berkowitz, PC
Below are upcoming projects:
JGR Development, LLC is proposing a new 5,000 seat professional soccer stadium, commercial and mixed-use development in Statesboro, Georgia near Savannah on Interstate 16.  Thedesign Architecture is designing the project.  Contact Darin Van Tasell, President, the Tormenta Futbol Club in Statesboro.
The Atlanta City Council Transportation Committee approved an increase on the construction cost of the airport's four new pedestrian bridges for $35 million more than the originally anticipated cost, bringing the total cost to $55 million.
Morris Plains, New Jersey, Honeywell will lease an additional 60,000 square feet at 715 Peachtree Street in Atlanta, the former J. C. Penny Co. regional headquarters building.
Chattahoochee Technical College will build and oversee a new $35 million aviation academy at the Paulding Northwest Atlanta Airport.
Infosys, Ltd. has leased 49,158 square feet on the sixth and seventh floors of 3225 Cumberland Center in Cobb County.   James Campbell Co. is the owner of the Cumberland Center Building.
Serendipity Labs signed a 30,000 square foot lease in the 3225 Cumberland Center building.
Northside Hospital plans a $40 million expansion of its hospital in Cherokee County which will include 32 beds and four operating rooms.
Atlanta-based Peachtree Hotel purchased a one-acre site at 17th Street and Atlantic Drive in Atlantic Station.
Horizon Hospitality Management, Inc. plans to develop an Embassy Suites in Atlantic Station.  The 10-story hotel will be about 145,000 square feet.
San Francisco-based Salesforce will add 600 new jobs in Atlanta and add to its office space in the 34 story building at 950 East Paces Ferry Road in Buckhead.  Contact Elizabeth Pinkham, Executive Vice President Real Estate, Salesforce.
We Work signed a lease for an additional floor at Coda, the 21-story tower at Spring, 4th and Peachtree Streets across from the Georgia Tech Hotel and Conference Center.  This brings 67,000 square feet under lease on the 3rd, 4th and 5th floors.  Contact Stream Realty Partners which oversees the leasing for Portman Holdings.
Cousins Properties, Inc. filed a land development permit in Atlanta for its "8th @West" project in Midtown, a 31-story project with 485,000 square feet of office space, and 6,000 square feet of retail.  The $150 million to $200 million project would redevelop the block that now contains the Daiquiri Factory.
Monte Hewitt Homes, LLC filed plans in Atlanta for a 95-unit, 5-story condo project on a one-acre site in West Midtown at 933 Watkins Street, just south of 10th Street and Northside Drive.
Reformation Brewery plans to relocate its warehouse and production facility to a renovated textile mill in Canton, Ga being developed by Penn Hodge and Grant Schmeelk.  Contact Spence Nix, CEO, Reformation Brewery.
Posted by ahqiadmin
On February 28, 2018
0 Comments